Mobile Car Detailing Carlsbad
Mobile Auto Detailing Service in Carlsbad, Oceanside, Encinitas, San Marcos & Vista
We come to your home or office with self contained, spotless water and electricity for a professional detail of your vehicle. Convenient and honest, Fresh Look Mobile Auto Detailing is a trustworthy mobile car detailing service in Carlsbad & North County, specializing in deep cleaning your vehicle's interior and exterior.
Life is hectic. Let us do the hard work and save you time, energy & stress. Book your personal mobile car detail today.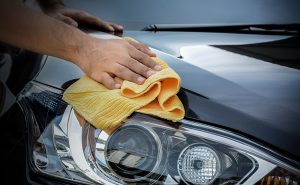 Our interior auto detailing process includes hot water extraction and professional-grade upholstery cleaning products to bring your car's interior back to life. For leather car seats, we use gentle leather cleaner and finish with a leather conditioner to maintain the beautiful look and feel of your car seats. 
Living near the beach is amazing and is part of what makes North County so special. However, bringing the beach inside your car is terrible for its interior surfaces. Beach sand will damage your seats and carpeted floors. And the residue from the ocean's salt water will remain in the fibers of your upholstery making your car seats look old and worn.
Kids and dogs are wonderful and make life fulfilling and fun. However, they do not (typically) improve the look and appearance of your car's interior. It is difficult, frustrating, and time consuming to remove dog hair after it has been embedded into the interior. And most kids, as wonderful they are, do not clean up the Cheerios they have ground into the car seats and floor. Spills, messes, and stains from kids and dogs can be hard to keep up with. 
We offer an exceptionally convenient solution and come to your vehicle to provide you with a refreshed, detailed vehicle. Always arriving with self-contained water, electricity, and all equipment & products needed to provide you with a beautifully detailed vehicle. We do all the hard work and save you time, energy, and stress.
Take a look at our Gallery for a few before and after pictures of our car detailing work.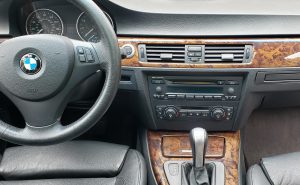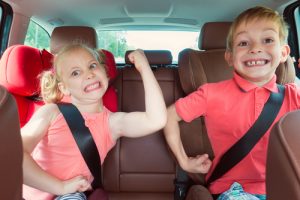 As one of the first Tesla Model 3 owners in Carlsbad, I am extremely familiar with what makes a Tesla a special, unique and beautiful electric vehicle. Professionally detailing a Tesla requires a high level of care and experience with the vehicle. 
View pricing for Tesla detailing services.
Tesla Model S, Model 3, Model X and Model Y which are manufactured in Fremont, California have soft paint which make it vital to give the car proper care and protection. California has more stringent environmental regulations than most states or other countries. Because of this, the paint on a Tesla is just not as hard as a vehicle manufactured in Detroit, Michigan. It is critical to perform a thorough & careful hand wash of your Tesla using only the best equipment and car cleaning products.
And, even the simplest actions such as closing the frunk should not be trusted to someone who is not familiar with a Tesla. Additionally, interior car detailing of a Tesla can be challenging when dealing with its large tablet and car seats. 
Book Online for a professional detail of your Tesla.
Spotless water is a must for professional car detailing. Unfortunately, Carlsbad & North County have some of the hardest water in the entire country. Hard water is harmful to your car and should never be used for auto detailing the exterior or interior cabin. Without a doubt, deionized water is the best way to ensure a safe, gentle, and spotless wash.
Regular tap water, even filtered water contains harsh minerals such as calcium, magnesium, etc. which cause water spots. Water spots will permanently damage your car's paint by etching into the clear coat causing an old & weathered look to your vehicle. The use of deionized water is just as important for interior detailing services as hard water will leave residue on car seats, upholstery, or any interior panels including the dashboard and center console. 
We only use deionized water for all car detailing services because it is the only way to guarantee a residue free and spot free car detail.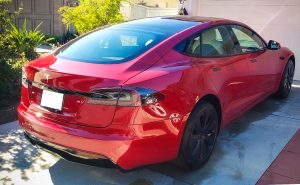 Don't mask odors from cigarette smoke, vomit, dogs, old food, body sweat, pets, and other odors with air fresheners.
As part of our odor elimination process, we use equipment to administer ozone shock treatment which attacks odors in your car and more importantly at their source. Ozone is a powerful oxidizer that breaks apart pollutants and odor molecules to eliminate them.
The equipment used creates O3 (ozone) in a special process that utilizes an electrical current. Ozone works by breaking down odors and other pollutants at their source. It will also follow the same path that the odors took into soft fabrics & surfaces and oxidize them on contact. 
Unlike deodorizers, it does not leave a smell or residue in your car. The treated area becomes free of odors. 
Odor Removal is an add on service which can be added to any auto detail. Book Online for an appointment.
Most car headlights are covered with a polycarbonate, plastic lens. These headlight lenses discolor over time, becoming yellow and cloudy. This severely restricts the amount of light reaching the road. Clouding is caused by accumulated exposure to the sun's ultraviolet light. This is unsightly and can pose a safety hazard.
We can restore foggy car headlights to a like-new condition at a fraction of the cost of replacements. Since replacing headlights can cost hundreds of dollars after installation, restoration is the least expensive way to correct the problem.
Car headlight restoration also known as headlamp restoration is the process of removing what is left of the old worn-out coating from the factory and installing a new protective coating. This process includes multiple steps. The first step is to remove the old, degraded factory auto headlight coating. To do this, it needs to be sanded off using many different grades of sandpaper. We start with 600 grit sandpaper and finally finish with 3,000 grit. Once that is completed, we polish the car headlights which provides shine and extreme clarity. Finally, we protect the headlight lens with multiple coats of ceramic sealant. 
Car headlight restoration is an add on service which can be added to any auto detail. Book Online for an appointment.